Roma coach Di Francesco on Dzeko comments 'I did not like it'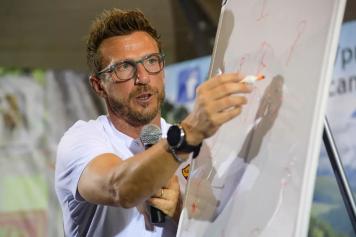 15 September at 19:45
Eusebio Di Francesco, Roma coach, spoke on the eve of the match against Verona, scheduled tomorrow at 20.45. Here are his statements:
ON VERONA - "We must pay close attention to their desire for revenge, but we also want to win after the loss to Inter. We will be very careful, we are potentially superior to Verona and we have to show our features: to be aggressive, determined, to attack the depth, to score at all costs."
IMPROVEMENTS - "In mental and physical fitness, in the ability to play vertically, you have to have time, but there is not much time. In Champions League we had good possession but no verticality. We need to be more incisive and better attack the opposing area."
ON FLORENZI - "Yes, he will play from the first minute. He has made an important journey, will have a great performance, he is motivated."
NAINGGOLAN DEFENDING EDF - "We have only 270 minutes of official match time, and we are creating a senseless discussion. Everyone is free to think and write what they want, but I'm used to all this. Radja's are pleasing, they give strength but I have no doubts."
ON DZEKO - "In troubled times, there are still things that should not be said, I did not like it but it was clarified. I think Edin should be made available to the team, the collective. When an attacker does not score or has few opportunities, it is normal. Some games you score, some you don't. Against Atletico for 45 minutes we played at par, he had to get a little bit more available to the team. He will have his occasions in the future. On Tuesdays it was an outburst, then he realized, because he is an intelligent person. I only ask him to be available. I see, I read, I try to understand, I have the ability to change when I have to and when appropriate. I have the balls to do it when it is needed, when I feel it."