Roma crisis: Real Madrid and Inter decisive for Di Francesco and Monchi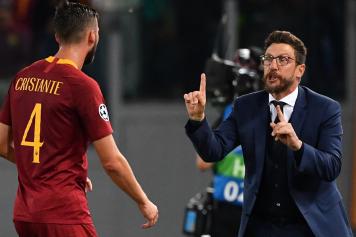 26 November at 12:15
Eusebio Di Francesco's Roma job is not safe anymore. Not after the Giallorossi away defeat against Udiense.
The Dacia Arena clash raised doubts on Roma's coach, who has now a tough week ahead of him. The Giallorossi will face Real Madrid in Champions League on Wednesday and Inter in Serie A at the weekend.
Although the sacking of the manager is not the first solution considered by the board,
according to Il Corriere
dello
Sport,
the management is also keeping all the options open in case the situation gets worse in the next two matches.
If Roma fail to react against Real Madrid and Inter, then the sacking of Di Francesco could become a more concrete idea.
​According to the Italian paper, if the Italian manager is sacked, Monchi could face a similar destiny. The future of the Spaniard is linked to the future of the coach and, if Di Francesco is sacked, Monchi would be ready to resign ahead of a change on the bench. It's a hot week in Rome: Real and Inter will decide the future of Di Francesco and Monchi.
Mirko Laurenti