Roma, Di Francesco: 'I was able to convince my players than anything is possible'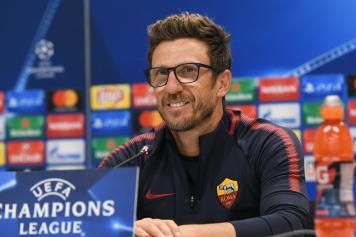 06 December at 08:00
Eusebio Di Francesco spoke to
Premium Sport
last night after Roma's big win versus Qarabag, here is what he had to say on the matter :
"It was a great victory, I am very happy indeed. I am also very happy that we finished first in our group. No one gave us a chance but with hard work and determination, we were able to finish ahead of great clubs like Chelsea and Atletico. In the first half of this game I had asked my players to build plays in a smart way since everyone wanted the ball. We had a difficult time to break down Qarabag but when we did, then everything changed. We played a solid second half. The important thing was to convince the players that anything is possible. We did it!".
"Did you believe in this too at the start of the game? I am someone who is very positive and I always believe in positive things...".
Jean-Luca Mascaro (@CalcioNews89)