Roma, Di Francesco: "Barcelona happy about the draw? So are we"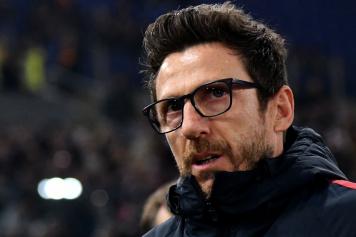 17 March at 15:55
Roma's Eusebio Di Francesco spoke to media this afternoon ahead of Sunday's match agianst Crotone. The skipper said his team is locked in on third place, Perotti is out with a muscular problem, and Florenzi has fully recovered. The squad will be the same as the one used in the midweek Champions League tie.
Crotone and Barcelona? "Our focus is now on Crotone: Tomorrow will be a difficult match against a club that achieved a miracle last year. They played a great game against Sampdoria."
On Barcelona- "In Spain they laughed after the draw ... The fact of being in the quarters is a source of pride, and maybe we will be against the strongest team in the world with the strongest player in the world."
"We are happy, we must move forward with humility."
El Sha and Gonalons? El Shaarawy will play from the beginning. I am convinced that he will be decisive. He wants to prove himself and this could be one of the matches to return to scoring."
Gonalons? "He will play from the beginning too, he is fine. In the Champions League I brought him on the bench because I needed different characteristics. He has trained hard and can play."
Schick? " Schick possibly near Dzeko? Perhaps, on the right, I have three options: Under, El Shaarawy and Gerson, we will see, the night will bring advice. "
On the season-"We could have earned a few more points, but Juve and Napoli have something more. What is frustrating is the gap that is perhaps too broad, there have been negative moments that have hampered us.
"Many would like to play the quarters and we must be proud of it.
Market? "Playing the quarter-finals also brings an advantage in terms of the club image, and we must always give the best. "
Di Francesco also spoke on Gerson. "He can play in many roles. I do not think he can play as a regista because he still likes to touch the ball too much."
Peres and Silva? "Silva is not ready yet, even if he is training continuously. Kolarov can play. On Peres I am not saying anything, he has the possibility to play, he's training a lot. We need all the players."