Roma: di Francesco reveals the statuses of De Rossi and Schick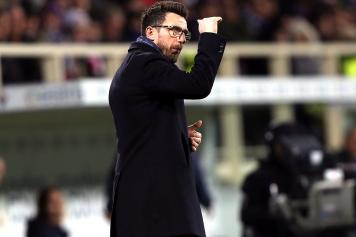 10 February at 16:30
Eusebio Di Francesco spoke to the assembled media on Saturday ahead of Roma's clash with Benevento on Sunday evening.
ON INJURED PLAYERS:
Today will be decisive for De Rossi and Schick. There's a good chance they'll be called. I hope, in particular, that De Rossi will be there as we have few solutions in midfield. He could help us a lot.
ON REPORTS THAT GERSON'S DAYS IN ROMA ARE NUMBERED:
In Florence he scored two goals, I do not think that it was a flash in the pan. He must improve his ability to read the play first and fall less in love with the ball. He is working hard, he has grown physically and enters the match with a good mentality. I am very happy with his growth, and he must not stop.
ON ROMA'S INABILITY TO SCORE:
I am always talking about our statistics. This team creates a lot. We know what to do, every single player shows grit and determination. I only know of one way to fix things: talk to these guys and try to free them psychologically. Look at Cengiz Ünder, after his goal against Verona, he even scored several goals in training, it's fundamental. The guys, in particular Edin, need to free themselves. Even a lucky goal would help.
ON BRUNO PERES?
We decided to fine him and exclude him from Sunday, as we did with Nainggolan. You need time to develop a certain mentality, but I hope this is the last time.