Roma: Di Francesco speaks about injuries, Anne Frank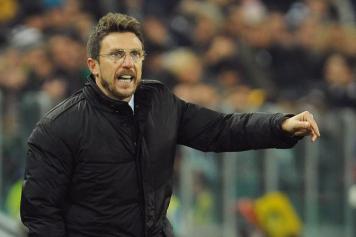 24 October at 16:15
ON CROTONE-ROMA:
"In Torino there were certain situations where we should have done better. With Napoli, we hit the post twice and, with a pinch of determination, we should have done more. We have proved solid this week, synonymous with a process that is leading us to be an important team."
"We have to bring home six points in the next two games. Crotone made a miracle last year and they have a very well-trained technician."
ON ROTATING PLAYERS LIKE DZEKO & KOLAROV:
Both players will start tomorrow. "Before Bologna I will evaluate whether to rest them."
ON INURIES TO RICK KARSDORP & PATRIK SCHICK:
Karsdorp will play from the start tomorrow while Schick has yet to continue his recovery path.
ON SCHICK'S ROLE WITH ROMA:
Firstly, he must get into proper condition, then he can play everywhere. Like what I did these recently, surprising you with some choices, Schick might be a surprise on where I could deploy, but I will not change the team's philosophy and mentality. He is a great football player who must recover to playing condition.
ON ANTI-SEMITISM FROM LAZIO FANS:
There are institutions that deal with them, it is a cultural question. I do not want to talk about anti-Semitism with someone who has not lived through it. Today, I also feel for Anna Frank. This is my response to what happened."