Roma, Di Francesco: 'We know how delicate tomorrow's game is'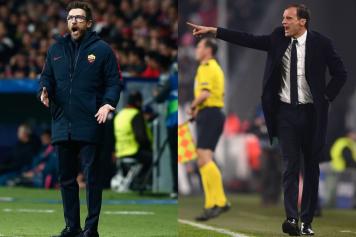 12 May at 16:40
Roma coach Eusebio Di Francesco presented tomorrow night's match against Juventus at his press conference.
On the match "In the locker room we know how delicate tomorrow's game is, we have to reach our goal and reach third place, which we really care about."
"It takes time to bridge the gap, we have to improve from many points of view and reinforce ourselves where we are weaker ... we've made some steps forward this season. Juve have the hands on the Scudetto but will win. We have grown from a lot of points of view, we have always been far behind in the Champions League, but we have done better than the Bianconeri this year.
50 games at the helm "I hope to do many more, and I hope that the next ones will be of higher quality. Now our goal is to close the championship with great results, with two victories, that's what we want".
training - "I can say that certainly Alisson, Dzeko, Florenzi, Kolarov, El Shaarawy and De Rossi will all play"
B teams- - "I am very supportive and for the big teams it will be an advantage, as the youth can grow in this. It must be an added value also for the C Series, it will be a showcase for everyone. Spain has changed and the young come to the first team with a different experience."
Home performances- "At home we suffered too many losses and we have to improve, trying to exploit our stadium and our audience, for example Juventus almost never loses at home".