Roma: Dzeko opens up about criticism from fans "who understand little"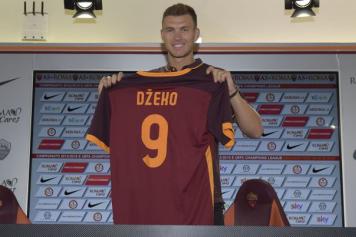 13 November at 13:15
AS Roma seems to have an issue of current players speaking too honestly about their life with the club, and after. Only weeks removed from Patrik Schick's fine for saying he hopes to move on from the Italian capital, Edin Dzeko spoke openly about the club's fans, and not all was in a positive light.
In a wide ranging interview with German outlet Kicker, the striker opened up about his life in the Eternal City, and after. When asked about fan criticism following his disastrous first season in Italy, the Bosnian seemed humbled by the experience.
"Everyone can say something and I accept the criticisms of the staff," he responded. "The first year went wrong because I was physically nervous and, in addition, struggling to score goals begins to weigh you psychologically. I had to settle in this league, which was difficult. I have learned from that first season. It's been teaching."
He went on to add, "I could have left Rome after the first year, but I'm not a spring."
Speaking specifically about Roma's fans, he was honest about his thoughts. "The fans in Rome are incredibly fanatical, and football, here, sometimes has an exaggerated importance." He also sounded frustrated at being the target of ridicule from fans "who understand little."
About his rumored return to Germany, Dzeko seems confident that he'll remain with the club beyond this season. "I still have a couple of years to bring the Scudetto to Rome."