Roma fans protest against Baldini in London - watch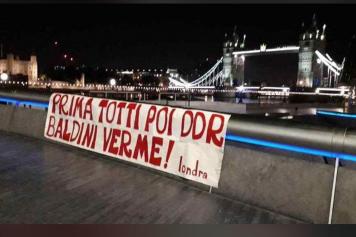 16 May at 14:45
Roma fans are furious with Franco Baldini and James Pallotta and after yesterday's protests in Trigoria (WATCH), some fans of the Giallorossi have "exported" their anger in London. A banner against the president's advisor was hung in central London. "First Totti and then De Rossi, Baldini worm".




The former advisor of Tottenham is seen as the biggest responsible for De Rossi's exit and Roma fans are protesting against him in Italy and now also in the UK.

Speaking about De Rossi's summer exit, Claudio Ranieri said today that the club should have extended the contract of the 'Capitan Futuro'.