Roma have €10m buyback clause for Milan, Chelsea target Pellegrini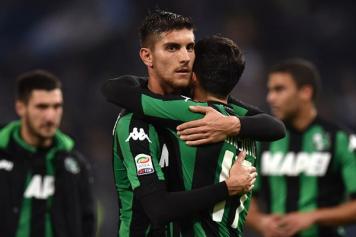 19 October at 16:49
Lorenzo Pellegrini's progress hasn't gone unnoticed.
In fact, it would be faster to list the football fans who haven't been impressed by the 20-year-old's rise at Sassuolo, the midfielder scoring five Serie A goals over the past two seasons.
The same goes for clubs, five of whom are keeping Pellegrini under observation: we mentioned Milan earlier today, but now the Corriere dello Sport add Juventus, Inter, Chelsea and Manchester City to his list of admirer.
Roma, whose academy launched Pellegrini, have the advantage, having a buyback clause which would allow them to snag the 20-year-old for
€
10 million.

@EdoDalmonte