Roma & Lazio's transfer policy: is this sustainable for Serie A in Europe?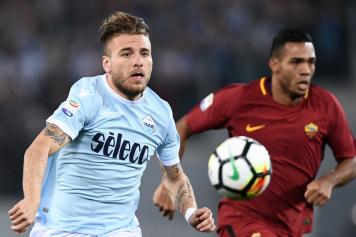 01 May at 14:00
On the heels of Juventus' stunning elimination in Istanbul against Galatasaray, it almost felt impossible for a Serie A team to be a legitimate contender in the Champions League. While Conte's famous use of the word "agghiaciante" became a popular meme on social media, his prediction that it would be at least ten years before
another Serie A would make the Champions League final because "you cannot eat at the 100 euro restaurant with a ten euro bill"
was an even more devastating take on the future of Italian football.
While Conte's prediction ended up being proven wrong not once but twice in the past 3 years, Juventus president Andrea Agnelli described Serie A as a transient league, where players came to improve before being sold for a big profit- a notion that is still valid for the most part today. I was thinking of Agnelli's quote when pondering the race for the remaining two Champions League spots involving Lazio, Roma and Inter.
​Many seemed to point to the fact that it would be better for Serie A to see Inter qualify over Lazio, because the nerazzurri would have a much better shot at keeping their best players and fielding a competitive team. And while I certainly can see why, it's also important to note that constantly selling top names didn't prevent Roma from not only qualifying, but also flat out winning, a group of death featuring Chelsea and Atletico Madrid prior to taking out Shakhtar (the team that essentially eliminated Napoli) and Barcelona on their way to the semifinals. So now I have to ask myself can a team that is a real life example of Serie A being a transient league, sustain long term success at highest level?
​Now if you know about sample sizes or simply looked at the recent editions of the Champions League, it's hard not to point to Roma's current season as an outlier- or even maybe the exception that proves that the rule is actuallt true. But more ancient history tells us that if you have a great sporting director and scouting network you can do it, the real question is if this can still happen in the era of some clubs having revenues that rival the quarterly GDPs of some countries.
​Let me take you back to what now feels like ancient history: during the first year of Luciano Moggi's reign at Juventus, the bianconeri when their last Champions League against Ajax. While Juve failed to lift the cup again, they were a consistent power house in Europe making the final multiple times. While history mainly remembers Moggi for Calciopoli, when it came to wheeling and dealing players he was second to none. As a matter of fact, Juventus won their last Champions League right after Roby Baggio left the club and was replaced by a young Padovano called Alex Del Piero.
Moggi would then go on to sell players like Vieri and Zidane, but he also had a knack for replacing them very well while keeping a balanced budget between sales and acquisitions.
Now on top of super clubs like Real Madrid, Barca, Bayern as well as many PL teams having much larger budgets
, another thing that has changed since Moggi's days is fact that Serie A has a hard time attracting and retaining super stars that have juicy offers from other leagues.
On the bright side for both Lazio and Roma, they do have excellent sporting directors running their transfers.
While most of Monchi's summer transfer moves didn't pan out at least so far (Schick and Karsdorp battled injuries and Moreno was already shipped off in January after arriving on a free transfer just last summer)
his reputation for discovering talents prior to flipping them for a massive prospect was and then restarting the cycle, is precisely why Roma wanted to him to lead their project in the post Totti era.
​But while everyone knows Monchi, the other sporting director in Italy's capital has quietly become one of the best in the business. Former Albanian international Igli Tare has been running Lazio's mercato along with president Lotito since 2010, and in the past few years he has
certainly stepped out his game. Lazio has sold players like Hernanes, Candreva, Biglia and Keita Balde for substantial profits even in the last years of their contracts and have replaced them very well with the likes of Luis Alberto, Lucas Biglia and- drum roll- Milinkovic Savic.
​Next summer things won't get much easier for Tare. In addition to having numerous rich suitors interested in Milinkovic Savic, Lazio will almost certainly also lose their best defender (and occasional bomber) Stefan de Vrij whose contract expires in a few months, as well as winger
Felipe Anderson who seems ready to take the next step in his career. But don't write Lazio off
, Tare is perfectly capable of fielding a team as successful as Roma has been this season after losing Salah and Rudiger.
In addition to having faith in the ability of Monchi and Tare', there are also some signs
Serie A may be becoming less and less of a transient league.
Last season six players scored over 20 goals in Italy's top league, not one of them switched clubs. In addition, in previous summers had Bonucci and Bernardeschi been sold, it would have been almost certainly been to go abroad- but they ended up staying in Serie A instead.
​While many love to joke on Juventus' inability to win in the final, they have also provided the best example of team winning in Europe despite losing big names- the squad that
made it to Cardiff had lost players like Vidal, Tevez, Pirlo and Pogba in previous years. In addition to wheeling and dealing well, Juventus had also invested in a team owned stadium,
and their long runs in Champions League in two of the past three season have ensured they do no have Financial Fair Play issues and growing revenues- that can be the formula for the other Serie A teams while the transient era (hopefully) comes to an end.
David Amoyal