Roma's Kolarov: 'We could have beaten Chelsea'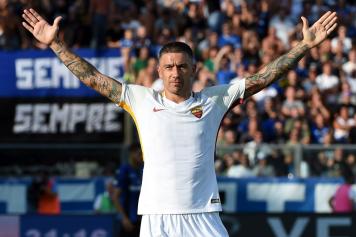 22 October at 19:15
Roma's Serbian defender Aleksandar Kolarovspoke to Sky after having scored the only goal of the match away against Torino.
Are you the Mihajlovic of today?
"I would like that very much, he was my idol when I was a kid and when I played for Red Star, and I wanted to score goals because he was there. I am happy, especially for the win."
What does today's three points mean?
"I think that it is a testiment to continuity. We played really well in London and I think that we could have won. It was difficult today to play after only 3-4 days, especially against Torino who are a great team. We suffered a bit, we didn't play that well however we won and that is all that matters."
Did you suffer today due to the fact that you returned from London on Thursday morning?
"Yes, then there was the fact that Torino was coming from two negative results and it took a lot out of us to win today. I am glad because today we showed a sign of continuity."
Is that signal sent to the other teams in the top of the standings?
"Roma was there before, from the begnning of the season, and we will be there in 10 days time too. We know that we are a strong side however in football you have to always win to demonstrate this. The season is long, we are striving to win every match and then we will see where we can end up."
Nima Tavallaey Roodsari