Roma's Nainggolan: "Proud to be captain of this team"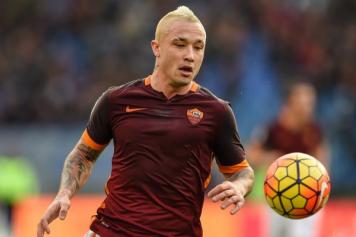 22 November at 23:50
AS Roma's Belgian midfielder Radja Nainggolan stopped by Premium Sport to share his thoughts on the 2-0 defeat away against Atletico Madrid in their penultimate Champions League groupstage match.
"We played well in the first half, we made a few mistakes in our passing and we failed to score which was completely our own fault and after they scored we fell down as a team. When we started playing this group no-one believed that we would play Qarabag in our last match to qualify for the knock-out stages of the Champions League" Nainggolan began.
The former Cagliari midfielder was asked about his throughts on the praise received by Atletico coach Diego Simeone stating that: "these are beautiful things he said, I am focused on Roma because I have made my choice, one that makes me happy. I am pleased to represent this team so I have everything to make me happy. We played much better tonight than in the first match we played against them, we were too scared to make mistakes then. This defeat can help us to roll up our sleeves and get back to work in order to get back to winning ways."
In conclusion Nainggolan was asked about how it felt to be Roma's captain stating that: "It is an honor. Before me there was Totti, De Rossi and Florenzi. It is a beautiful thing to represent Roma, I always think about giving everything for this team, it is something I have inside of me to give everything I have in me out on the pitch."