ROMANO EXCLUSIVE Juventus watching Sassuolo hotshots Sensi, Lirola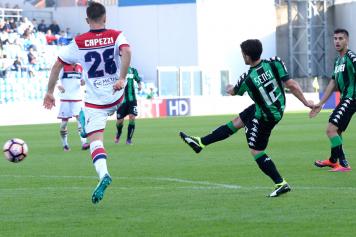 19 October at 19:53
Juventus aren't just scouting Domenico Berardi among the Sassuolo talent, that's for sure.
Giuseppe Marotta and Fabio Paratici sent scouts to watch the Emilians beat Crotone 2-1 last weekend, and we can say that, beyond Pellegrini and Iemmello (two other big names), the Bianconeri are particularly happy with Pol Lirola and Stefano Sensi.
The Spanish full-back is on loan from the Turinese side, and was one of the best players on the pitch. What we're hearing is that the 19-year-old could remain another year at the Mapei to further develop, something which CEO Carnevali recently hinted at.
Sensi, for his part, was brought to Sassuolo with Juventus' help, and scored a stunner against the Calabrians. He's appreciated for the charisma he's shown after recovering from a big injury. Though Juventus are thinking of Bentancur and Witsel, don't forget these names, either...

@FabrizioRomano, adapted by @EdoDalmonte