Ronaldo equals record, stakes claim as UCL's best ever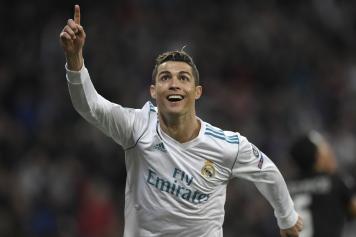 07 March at 20:00
Cristiano Ronaldo matched a Champions League record by scoring in his ninth consecutive game in the competition on Tuesday.
Ronaldo headed home Lucas Vazquez's cross in the 51st minute at Paris Saint-Germain to put Madrid in full control of the round-of-16 tie before they won 2-1 to advance 5-2 on aggregate.
The goal allowed him to equal the record held by his former teammate Ruud van Nistelrooy, who also scored in nine straight Champions League games for Manchester United in 2002-03.
Ronaldo has scored 14 goals during his streak, which stretches back to last season's final victory over Juventus, while Van Nistelrooy netted 12 in his nine games with at least one goal.
This campaign, the Real Madrid star leads all scorers with 12 goals, a feat accomplished only nine times -- and five of those nine were by Ronaldo.
Ronaldo has 22 goals in his last 13 Champions League games and 117 in his career. He has 57 goals in the knockout stage -- 19 more than his closest rival, Barcelona's Lionel Messi.