Ronaldo-Higuain H2H: Who will prevail in AC Milan-Juventus?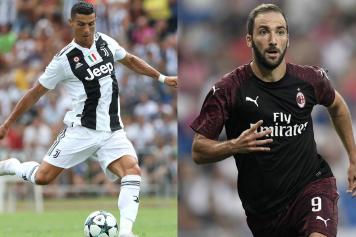 10 November at 18:00
They were teammates for a couple of days during the summer or even at Real Madrid, but tomorrow they will face off as opponents at the San Siro. Cristiano Ronaldo and Gonzalo Higuain will be the two players closely observed tomorrow during the Serie A clash between Milan and Juventus. But who will prevail and give their team the much desirable three points?
On paper, Juventus are obviously the stronger team. They have yet to lose in Serie A this season and seemed unbeatable until not so long ago when they lost against Manchester United at the Allianz Stadium 1-2. But in Italy, their dominance continues.
After an initial struggle, Ronaldo is scoring even in Serie. Unsurprisingly, considering the enormous quality of the Portuguese phenomenon. But Milan have an ace up their sleeve, despite countless injury problems, and that is exactly Gonzalo Higuain, who has recovered and will likely start tomorrow.
Ronaldo has featured in 14 matches for Juventus so far this season, scoring 8 goals and assisting another 5. Meanwhile, Higuain has 7 goals and 1 assist in 12 matches in all competitions for the
Rossoneri.
Both are key parts of their respective teams and in a way 'dictate' the way they play.
Higuain will definitely be hungry for revenge against his former team, which promises an exciting matchup full of emotions and hopefully quality football. Cristiano Ronaldo has success and motivation written on his head, so a heated duel between the two is guaranteed and it will be likely one of the two, if not both, who will be decisive in the match, but only one of them can be the real star of the evening, in case there isn't a draw.
On paper, Juventus with Ronaldo definitely look likely to grab the win, however, these enormous matchups are often unpredictable and one cannot really predict the outcome, because of the already mentioned motivation, emotions and special 'big game spark'.
Nikita Fesyukov