Ronaldo: Messi rivalry only just begun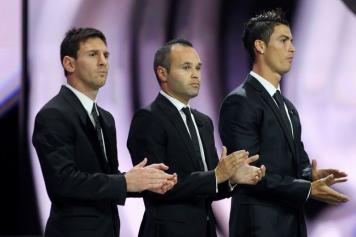 24 October at 14:10
Cristiano Ronaldo insists that his rivalry with Lionel Messi is nowhere near finished.

The Portuguese star, now 32, was speaking after being voted the player of the season at the FIFA Awards, with his Argentine rival coming in second.

"It is not finished yet, it has only just begun," Ronaldo said.
"I don't compete with Leo, he is a player who I am with in the same era.
"He won five times and I have won five times too as the best individual player in the world, so it is what it is."

The Portuguese star is getting a little long in the tooth (at least on paper, he's 32), while his rival is 30. Ronaldo has started the season poorly, being suspended for five games for pushing a referee and being wasteful ever since. He only has one Liga goal so far, while Messi already has a massive eleven, four coming against Eibar.
"Obviously I am happy because I am playing for the best club in the world and I have had the opportunity to demonstrate that I can play at a very high level over the years," Ronaldo insisted.

His Real side are five points behind Lionel Messi's Barcelona.

"I am still doing very well, I am relaxed and at this moment, I have to enjoy this," Ronaldo concluded.

The good news for fans of international football is that both these legends should make it to Russia, barring injuries. Argentine looked like they could miss out on qualification completely, while Portugal pipped Switzerland in the last round of games to avoid the playoffs.