Russian official: I helped soccer players get away with doping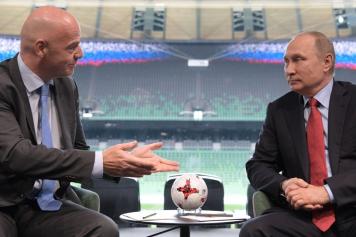 17 February at 21:10
Russian soccer and sport officials shielded its players from doping bans; so says former laboratory director Grigory Rodchenkov.
Outlining his involvement in football for the first time to The Associated Press, Rodchenkov claimed an instruction to "avoid any scandal" came from Vitaly Mutko, the former Russian sports minister who now serves as a deputy prime minister despite being implicated in a far-reaching doping controversy.
Speaking from an unnamed location in the United States, for his safety, Rodchenkov said, "Russian footballers were immune from doping-control actions or sanctions."
"Mutko ordered protection for Russian footballers when he was the president of the Russian Football Union," Rodchenkov said. "He told me directly to 'avoid any scandal by hiding positive results' and 'doping would be handled internally,' meaning that those doping irresponsibly or without protocols could be disciplined or reported."
While not stating that he helped footballers to obtain drugs -- like in other sports -- Rodchenkov admits to being complicit in the cover-up.
"When they had [adverse analytical findings]," Rodchenkov said, "those results were supposed to stay out of [WADA's administration and management system]."
This admission casts more doubt on the ability of FIFA president Gianni Infantino to properly lead the organization. He recently appeared to pre-empt the outcome of internal inquiries by saying: "If there was a big issue regarding Russian players who would be doped, we would by now already know it."
When asked about Infantino's remark, Rodchenkov replied to the AP: "This is more burying heads in the sand."