Sacchi: Guardiola didn't want Eto'o, Henry at Barça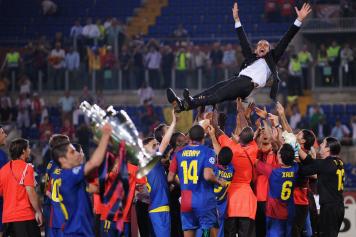 13 September at 10:45
Arrigo Sacchi has some stunning revelations about Pep
Guardiola's early reign at Barcelona.
Speaking to reporters, the former Milan Coach, always a lover of youth development and beautiful football, claimed that Manchester City's current gaffer wanted to get rid of Ronaldinho, Samuel Eto'o, Thierry Henry and Deco as soon as he took over the first team.
"Guardiola has had the same [luck] when he was promoted from the third division to the first team [at Barcelona]. He said to the president that he did not want four players. The most famous players, maybe the best. Ronaldinho, Eto'o, Henry and Deco."
It is a surprise, considering that Eto'o played a key role in winning the Champions League shortly after, netting the opener against Manchester United in Rome in the 2009 final. Thierry Henry also played in the game and scoring 25 goals between La Liga and the UCL that season.
Guardiola was promoted to the first team from the academy setup to general skepticism in 2008, but quickly fired back by winning two Champions League titles inside three years.
Sacchi had more to add: "The president replied: 'Who would you like to sign?' And Pep said: 'No-one. We can promote some young players from the third division.' Tercera is like the third division. He promoted Busquets and Pedro. The president said to keep at least one and he kept Eto'o. He won La Liga."