Salvini: 'Mazzoleni did very well to suspend Inter-Napoli. I would like Koulibaly at AC Milan'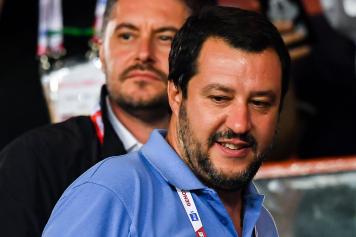 28 December at 11:30
Italy's Ministry of the Interior
Matteo Salvini spoke during the transmission of Tiki-Taka live on Italia 1
and reflected on the Inter-Napoli matchup that brought many controversies.
"Tomorrow I will be in the ministry to assess who to invite to the discussion table, everyone has to put his head in. It takes a huge examination of conscience. All the protagonists of the football world are needed: clubs and supporters. I do not understand why the overwhelming majority of Inter fans, good people, have to pay for some criminals who fought two kilometres away from the stadium," he said.
"Mazzoleni? He did very well not to suspend Inter-Napoli. Try to imagine if the rumours of the clashes spread with the game suspended, what would have happened. Why was the police not protecting Napoli fans? I expect answers from the Milan police chief. Evidently, something did not work.
"Racism is stuff for idiots in 2018. Bonucci, when he came to play at the San Siro with the Juventus shirt, was covered by offences and "buu". What is this racism? Is "Milan in flames" a racist chant? If we want to condemn and defeat violence, we should not pretend that it is all the same stuff.
"Convene the ultras? Organized fanbases are composed in the vast majority of good people. Those from the match are not fans, they are delinquents. A fan does not go to the stadium with a knife. Let's not confuse delinquents with the fans. To solve problems, everyone must be involved around a table: footballers, presidents, referees, journalists.
"Giving the captain's armband to Asamoah is just a hypocritical gesture. In the security decree we have provided that part of the ticket income is used to pay for the service of law enforcement during the matches. What would I say to Koulibaly? That I would like to see him at AC Milan. He is one of the strongest defenders in the world," Salvini concluded.