Sampdoria president to Roma fan: 'You can suck my d**k'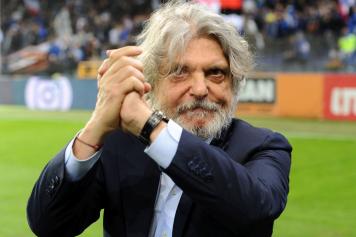 07 April at 11:35
Sampdoria president Massimo Ferrero has abused a Roma fan, saying that he can suck his d**k and he has one that is too small.
A Roma fan with a Twitter name 'Fabio trp asr' posted a message on Twitter after Sampdoria's 1-0 loss to Roma and he abused Samp for a whole host of things.
Ce l'hai talmente piccolo che neanche lo vedo, xcui nu me posso attacca'. Però se vuoi accomodati sul mio. Prima di parlare dei miei tifosi Sampdoriani sciacquati la bocca..Ti Adoro. https://t.co/nA9NguA6Gl

— Massimo Ferrero (@unavitadacinema) April 7, 2019
In response to the fans' tweet, Ferrero replied to it and said: "You have it so small that I don't even see it.But If you want to sit down on mine. Before talking about my fans, such my d**k.. I adore you."