Sampdoria, Quagliarella: "This was my best goal ever..."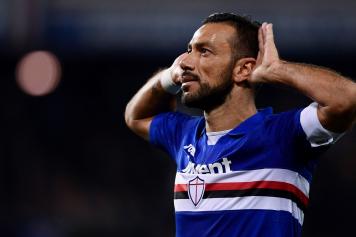 04 September at 22:28
Sampdoria striker Fabio Quagliarella scored an backheel amazing goal against Napoli this past week-end as he recently talked to the press on the matter, here is what he had to say to the local press:
" Best goal ever? I would say so! I was pretty much standing still and then that happened. What a moment. You need luck to score a goal like that so I am happy. I have received many compliments from Naples which makes me happy as well. Cristiano Ronaldo? He has scored so many incredible goals, he doesn't need a backheel goal like mine. He is incredible and he will score many Serie A goals...". Click on the gallery section bellow to see the goal again right here on
Calciomercato.com.
Sampdoria ended up beating Napoli by an impressive 3-0 score line as Carlo Ancelotti's Napoli team will be looking to bounce back as soon as possible. They will have to wait a bit since it is now International break time...