Sarri; "Gabbiadini? I won't sacrifice 8 players to accomodate him, he must adapt quickly"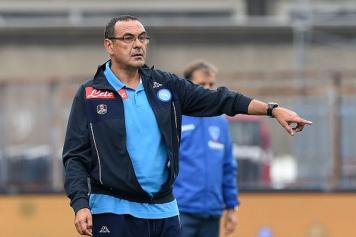 18 October at 15:34
Napoli coach Maurizio Sarri has been speaking at his press conference ahead of Wednesday night's Champions League tie against Besiktas at the San Paolo.

ON THE FORMATION: "There were several tired players yesterday after the Roma game so I will have to evaluate the squad"

ON HIS COMMENTS ABOUT JUVE: "I've said they were on a different level at least five times, now someone has decided to use this after a defeat. I've being saying this since July".

ON GABBIADINI: "Manolo must not adapt to me but to the team that has developed a style of play that I have not imposed. He has the characteristics to play as a wide man and a midfielder. Nobody wants to go against the characteristics of a player but no coach would sacrifice 7-8 for just one player".

ON THE COMPARISONS WITH LAST YEAR: "I have total trust; a team can go through a bad spell at any time so we are working on our mistakes. 15 days ago we were perceived as a phenomenon so we don't believe we are poor now".

ON NAPOLI TOMORROW: "You will see a team that has enthusiasm and determination without tactical errors because Besiktas are a capable side who do not lose many matches"

ON VARIATION ON THE 4-3-3: "An old coach of mine once stated that those who speak of modules do not know about football. We have already played with Hamsik between the lines and with the strikers tight between the lines. Perhaps we have changed the system too much bringing uncertainty to the team".

ON MOTIVATION IN THE CHAMPIONS LEAGUE & SERIE A: "You mean am I less motivated in Serie A? I think it's the same for every competition we take part in"

ON ROG & DIAWARA: "If people who have not seen them in training want to give me advice that's OK but I won't be listening. I will decide when they are ready. Rog has come from another country and if he's not ready in 20 days it's apparently a problem. Who should I listen to?"


Steve Mitchell @barafundler