Napoli, Sarri ahead of Liepzig clash: "The league have not helped again with our fixture list"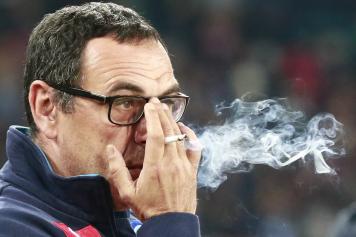 14 February at 16:25
Napoli boss Maurizio Sarri has been speaking ahead of his sides Europa League clash against RB Liepzig at the Stadio San Paolo tomorrow night.

The tactician began with a scathing attack at the Lega Serie A's fixture schedule, explaining that; "The league has not helped with the calendar, we play tomorrow night and will be back in action in just 60 hours. Liepzig do not play their next match until Monday."

Currently top of the Serie A standings, Sarri was asked about his side's motivation for this competition; he replied; "We need to find motivation. I have an 18-man squad including three goalkeepers. We have numerical problems but we will try to make it a serious contest.

"It's a chance to focus on something different for a change but I have always stated that you need to be the best domestically before trying to be the best in Europe."

On two of his selection worries, captain Marek Hamsik and striker Arek Milik, Sarri admitted that; "Marek is getting better. Yesterday he trained with the squad. He's not tired, despite what people may think, I'll decide tomorrow whether to play him.

"Arek is also getting better, but he needs to tell me when he is ready for selection. He's still not been clear on this but I respect his wishes."