Sarri holds press conference at Chelsea: 'Why I didn't talk to Conte'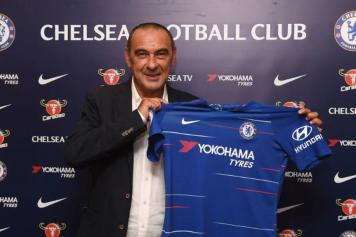 18 July at 15:15
Maurizio Sarri is taking his first press conference at Chesea. Follow it here live:
I think I am one of the few managers that is bored by the transfer window. I want to have fun until I am here and be competitive in every competition until the end. I want to have fun, that's my target and I think that the biggest gift of everybody is to do the job that you love and that's what I did in the last few years.
As a manager I want all my best players to remain at Chelsea.
Sometimes you also win trophies, sometimes not. It would be great to win and to make our fans have fun. It depends on our players' qualities. A good manager must use the qualities of his players, it really depends on the player that I will have.
If a team has fun playing, most of times supporters have fun too. Of course there is also a material objective, which is to win trophies but it would be important to build a good basis and have fun.
Da Laurentiis? I have amazing memories about Naples. I love the city and the fans, I will love them forever. If I don't have a good relationship with the president is because we both did mistakes, we'll get over it with time.
I didn't talk to Conte. I didn't want to be influenced by someone else. He achieved amazing results here but we have different playing style. Right now I can't work with lot of my players because most of them are coming back from the World Cup. I will change something and I am not going to waste Conte's job. In modern football, however, there is lack of time and a manager must explain his mentality as quickly as possible.
How much time do I need? It depends, I know modern football doesn't give manager lot of time.
Omophobic? No, I am not. Whoever knows me well knows that I don't have that kind of problem. I did some mistakes in the past, leaded by anger but I don't need to apologize. I will prove that I don't have this kind of program. Special One? I hope you will only know me as Maurizio.
CLICK HERE FOR MORE TRANSFER NEWS