Sarri-Juventus Live: Day of reckoning as Chelsea boss nears Juve confirmation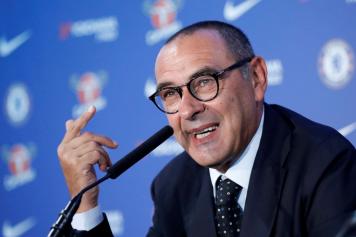 14 June at 17:32
Today is the day of reckoning for Maurizio Sarri; as the head coach could officially complete his move from Chelsea to Juventus today. Sarri, who has been linked with the vacant managerial post at Juve since Massimiliano Allegri left the club, is due to be announced as the new coach today and Juve fans will be looking forward to what their new man can offer.
17.45 - Sarri to Juve: Ramadani and Paratici discussing contracts
Fali Ramadani, Sarri's agent, is in Milan with Juve's director Fabio Paratici. The last details are being dealt with regarding Sarri's contract, which will last two years (up to 2021) with the option for another season.
17.00 - Zola's future in limbo
Gianfranco Zola's future is unclear this evening, with his contract as Assistant Manager at Chelsea due to
expire at the end of this month
. It is thought that he may follow Maurizio Sarri to Juventus, to join his back room team. The favourite for the Chelsea job Frank Lamapard is thought to favour bringing Jody Morris with him from Derby as his assistant.
16.00 - Palmieri will not be included in Sarri deal
Emerson Palmieri, who had been thought to be included in the deal to bring Sarri to Juventus
will in fact stay in London
with Chelsea after the club decided that he should play a part for them next season
13.45 - The details of Sarri's move to Juventus revealed
Juventus agree to spend around 3 million euros
to take Sarri back to Italy. Chelsea originally requested 6 million, however eventually lowered their demands, and the two clubs agreed on 3 million plus potential bonuses relating to Sarri's success at Juve.
12.00 - The names of the staff that Sarri will bring with him to Turin
According to Gazzetta dello Sport, Sarri has
already chosen his staff
at the Allianz Stadium. There will be four or five men trusted by the manager: above all his former assistant Giovanni Martusciello, currently at Inter, and Luca Gotti, who is likely to be Sarri's assistant.​
10:00 - Sarri wants Mauro Icardi at Juventus
Maurizio Sarri has just one request for when he takes over as head coach at Juventus; that the club sign Inter Milan forward Mauro Icardi. Sarri is
reportedly
willing to sacrifice Icardi's compatriot, Paulo Dybala, in an attempt to sign the Inter striker.
08:00 - Paratici in London yesterday to try and lower Chelsea compensation demands
Juventus sporting director Fabio Paratici was in London yesterday as he attempted to convince Chelsea into lowering their compensation demands for Sarri. Chelsea still ask for a considerable fee but Juve have done everything in their power to make the operation as low-cost as possible. An agreement is said to have been made between the two parties; allowing a move to be concluded today.