Sassuolo v Juventus countdown: Allegri press-conference highlights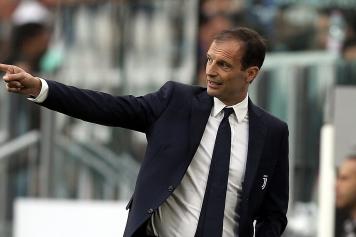 16 September at 14:24
Juventus boss Massimo Allegri has been speaking ahead of Sunday lunchtime's clash against Sassuolo in Reggio Emilia.
Calciomercato'com's Edoardo Siddi was present in Vinovo and here are the highlights of the press-conference.

ON POST BARCA: "It's not difficult to react, we just have to think about what we did wrong. We played well in the first-half then we suffered a goal that could have been avoided. We know we cannot play like we did against Barcelona and expect to win things.

ON THE FORMATION: "Madzukic and Chiellini will come back into the squad and Howedes will join up with the squad from Monday. The others, apart from the injured players, are at my disposal. Tomorrow we will go for the win but we know it will be hard as Sassuolo are in need of the three points".

ON THE FORMATION: "With Marchisio and Khedira out, it will be hard to play with a midfield three".

ON HIGUAIN AGAINST THE BIG CLUBS: "Last year he did well against Barcelona and was decisive against Bayern Munich. On Tuedsay he had a good first-half but you cannot analyse the second as the whole team were poor".

ON DYBALA: "He's not tired, as I said, the whole team played well in the first-half at the Camp Nou he will play tomorrow".

ON MARCHISIO: "He's recovering well; at the end of next week he will undergo more tests to assess his physical level".

ON MATUIDI & PJANIC: "They are both good and will play on Sunday".