'Sensi is like Verratti, he is the right man for AC Milan'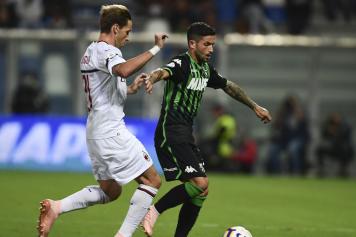 07 January at 10:35
"AC Milan are interested in Stefano Sensi to reinforce the midfield department in January and an ex-Milan player has given his 'go-ahead' for the deal to happen. Alberto Aquilani spoke about his former teammate to
Gazzetta dello Sport.
"The right man for Milan? I would say yes because Stefano is young and has great prospects. In the last months, he has grown a lot. He reminds me of Verratti for the way he plays. Both regista and mezzala? Exactly. He can play in both roles in the middle of the field," he said.
"As a regista, he has a very good vision of building the game, even if there is a lack of physicality. Otherwise, if one wants to build a team devoted to dribbling, he is ideal as an internal midfielder.
"Stefano is very polite and an easy-going guy, with his head on his shoulders. What struck me was his attention to the advice I gave him in training. He often ran a bit uselessly and then I suggested him the position to make the most out of his characteristics.
"Gattuso? He was one of the leaders in the locker room at Milan, he had a great personality, so I was not surprised to see him n the bench, rather Gattuso surprised me for the organization of his teams and the constant search for dribbles. He practices a very offensive game," Aquilani concluded.