Sergio Ramos hits back at 'ignorant' Griezmann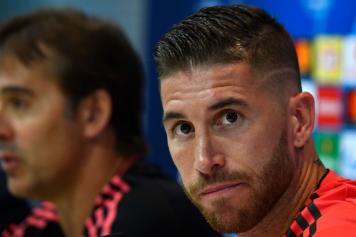 19 September at 11:35
Sergio Ramos has laughed off Antoine Griezmann's Ballon d'Or claims. The French
forward said he is a top footballer and compared himself to Cristiano Ronaldo and Lionel Messi.
When he was asked if he was at the same level as Messi and Ronaldo, the Atletico Madrid star said: "Yes, I think so."
Ramos did not hold back in his press conference ahead of Real's game vs AS Roma and hit back at Griezmann.
The Spaniard asked the Frenchman to learn from his senior teammates and coach and not to make such statements.
"Ignorance makes you very bold," Ramos said in his presser.
He continued to talk about the statement and said, "When I hear this guy talk, I think of the likes of Totti, Buffon, Maldini, Raul, Xavi, Iniesta, Iker, they've won a lot of titles at home, and none of them won a Ballon d'Or.
"Everyone's free to give their opinion. He needs to be advised by [Diego Simeone], [Diego] Godin, Koke and players like this and to get back to the values that suit them," added Ramos.
The World Cup and Europa League winner was not happy that he did not make FIFA The Best final three and has been vocal about it ever since the list came out.
He has made it clear that Ballon d'Or is more prestigious and is still hopeful of winning it. However, Luka Modric and Cristiano Ronaldo are leading the race right now.