Sergio Ramos: 'Ronaldo belongs to the past'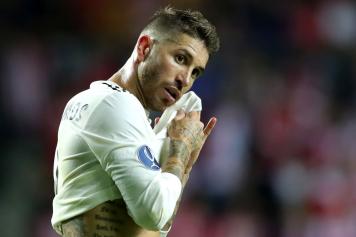 19 September at 12:10
Real Madrid take on AS Roma at Santiago Bernabeu tonight in the first game of this season's Champions League. They have won the competition three times in a row and are hoping to make it four but face a huge uphill task as the two masterminds, Zidane and Ronaldo, have left the club.
Cristiano Ronaldo has left the building, and Sergio Ramos does not want to talk about him anymore. The defender made it very clear to the press that he does not intend to talk more about the departure of the forward and wants to concentrate on the squad Madrid have right now.
"He marked a marvellous period for Real Madrid and he shattered practically all of the records here, but that's in the past," he said. He went on to say that they cannot keep thinking about it and live in the past. "We can't live on what Cristiano did in the past,"
said Ramos.
However, the Madrid captain did not fail to acknowledge what Ronaldo did for the club and said, "The hole he left is very big, but it's covered by others players with a lot of ambition and desire and we have a big squad to compete. We wish him the best, as always.
Continuing to talk about Ronaldo, Ramos added, "He gave us a lot and took very little away. He was very direct, had lots of goals in him, and we played more on the counter. Now, we have to adapt to another style. We have more possession and another way to hurt our opponents and that is what we have to exploit."