Serie A Coach hasn't spoken to his Swedish wife since Friday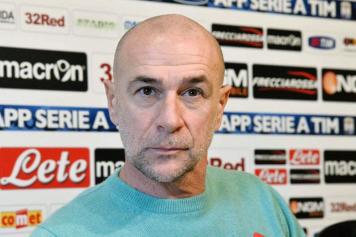 13 November at 18:15
Davide Ballardini claims that
he hasn't spoken to his Swedish wife for days.
Speaking to the Italian press, the former Lazio Coach joked that his spouse, Anna, had been ribbing him after Sweden won their home game 1-0 against the Azzurri, who need to beat the Scandinavians by a two-goal margin to qualify.
"I haven't spoken to my wife since Friday. For days she's been saying 'you're scared, aren't you?', the former Lazio Coach told the Gazzetta dello Sport.
"The Swedes are happy to have put us in this spot, to see us suffer."
The Genoa Coach juxtaposed Italy and Sweden, especially their federations.
"I hope they end up settling for that. If Sweden play on level terms with Italy, France and Holland it's because they're serious people, sensible, humble, who have found the strength to emerge in their team spirit and their discipline."
"We don't feel shame for serious things, absolutely not. If things go wrong, we'll just talk about the new Coach and rebuilding."
Ballardini recently took over at Genoa after Ivan Juric was fired for the second time. He has also been in charge of Palermo, Cagliari and Bologna.
"But I don't think it will happen: we have far better players and we do our best in extreme situations. We'll go to the World Cup."