Serie A Matchday 29: Bottom 5 performances of the weekend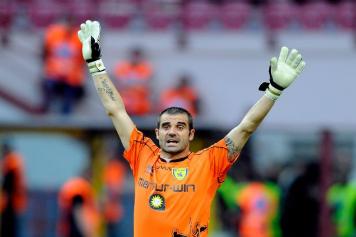 19 March at 23:10
There were many great performances in Matchday 29 but there were also inevitably some not as good ones.
​Here is a list of our top 5 flops of Matchday 29 (Via Whoscored) :
5- Albano Bizzarri: Atalanta vs Pescara: Whoscored rating : 5.7 :
Bizzarri is having a very difficult season as he once again conceded a high amount of goals. He looked shaky as he conceded three times to Atalanta.
4- Bostjan Cesar: Bologna vs Chievo : Whoscored rating: 5.5 :
This wasn't an easy game for Cesar as he struggled all game long. The entire Chievo back-line had a terrible game as they conceded 4 times to Bologna.
3- Timo Letschert: Roma vs Sassuolo: Whoscored rating: 5.4 :
It
wasn't
a
good
game for Sassuolo as
they
were
beaten
3-1 by Roma.
Letschert was probably the worst player on his side as he was constantly beat.
2- Joe Hart: Torino vs Inter: Whoscored rating: 5.4:
Joe Hart had a game to forget as he committed two errors which led to Inter's two goals. Thankfully for him, his team responded in the right way and earned a draw. Hart did make up for some of his mistakes with a few decent saves.
1- Stefano Sorrentino: Bologna vs Chievo : Whoscored rating: 5.3:
As we said, it wasn't a good game for Chievo as Sorrentino was probably the worst out of the bunch. He seemed very shaky in nets and he too had a game to forget as he conceded 4 goals to Bologna. He is our flop of this past week in the Serie A.
Jean-Luca Mascaro (@CalcioNews89)