Serie A review: Milan-Roma 0-2 | the player ratings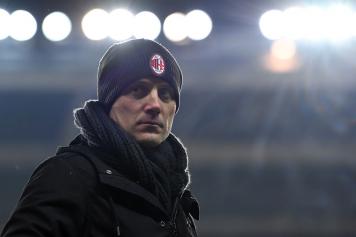 01 October at 21:15
Roma beat Milan by a 2-0 score line at the San Siro, here are the player ratings.
PLAYER RATINGS:
Milan:
Donnarumma 5.5: He made a nice save on Florenzi but could've done more on Roma's second goal.
​Musacchio 6: Solid game by him as he challenged a lot of Roma players.
​Bonucci 6: Even if Milan lost, Bonucci had a good game as he won most of his duels against Dzeko.
Romagnoli 5,5: Decent game but he often got beat by Florenzi.
​Rodriguez 6,5: Solid game by the left back as he was one of Milan's best players.
​Calhanoglu 5: He showed good things but missed too many shots. He then was sent off late on...
Biglia 6: He won a lot of balls back but did not create all that much with them.
​Kessie 5,5: He seems very tired as Montella should rest him...
Borini 6,5: A lot of runs by Borini as he shut down El Shaarawy (Bonaventura: no vote)
Andrè Silva 6,5: He did not score but his class showed tonight. He is still very young, but he deserves more playing time...
Kalinic 5: Manolas had the edge over him tonight as he missed a few decent chances (Cutrone: no vote)
Coach Montella 5,5: His Milan played a good game but they did not take their chances and Roma punished them.
Roma:
Allison 6.5: He made a great save on Bonucci.
Kolarov 6.5: Solid defensive game by the veteran.
Fazio 7: He shut down Kalinic and André Silva as he had a great game.
Manolas 6,5: He was often matched-up against Kalinic as he had the best over him...
Peres 6: He started off slow but got better as the game went on...
Strootman 6:He had a lot of key battles against Kessie but then had to leave the pitch. (Pellegrini 6,5: He came on with character as he served Dzeko the assist on the first goal)
De Rossi 7: Solid game by DDR as he led the Roma midfield.
Nainggolan 6,5: He had a difficult time against Kessie but as the game went on, he gained steam where as Kessie slowed down...
El Shaarawy 5: Nothing much by El Shaarawy. (Gerson: no vote)
​Dzeko 7: He always seems to score as he was decisive yet again today...
​Florenzi 6,5: He was pushed up the pitch as he responded with a big goal.
Coach Di Francesco 6,5: Roma played a very good game as they defended well and were clinical upfront...
By @Calcionews89