Serie A Team of the Season (So Far)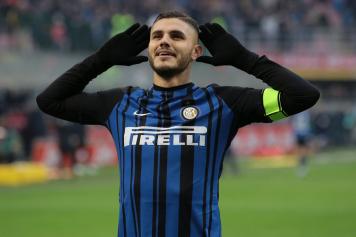 02 January at 18:05
With half a season in the books and the new year upon us, it
'
s now a great time to take stock of the standout players in Serie A. We've had a very competitive season so far, so while picking my ideal starting eleven, I want to also recognize the other players who helped make Serie A arguably the most hipster league in Europe of 2017:
GOALKEEPERS
The Contenders
: Ask any Serie A fan about
Samir Handanovic
and they'll mention him amongst the best keepers in the world- he just doesn't get as much recognition as Buffon and Donnarumma because he has yet to play in the Champions League and since he doesn't represent a top national team.
​One of the most hyped young players going into the season was Spal keeper Alex Meret, but between injuries and the amazing performances by
Alfred Gomis,
he has yet to play this season. Gomis has been as busy as Trump's press secretary, it feels like he had to put a massive fire every time he was called upon to do his job. Gomis has kept Spal very competitive in the race to avoid relegation.
Last year you could make a great case that Wojciech Szczesny had the most consistent and probably best season of any keeper in Serie A. While the Polish backstop has recently rewarded Juventus for giving him first crack at permanently replacing Buffon, his replacement at Roma
Alisson
has been truly outstanding. The Brazilian keeper combines excellent reflexes as well as very proficient ball distribution skills.
Honorable mention:
Sportiello
Pick:
Alisson
WINGBACKS
The Contenders
- The right back position was probably the hardest to pick out of any in Serie A. The injuries to Andrea Conti and Rick Karsdorp took away two top contenders, and Napoli's
Elseid Hysaj
hasn't lived up consistency wise to his first season under the Vesuvio. While Joao Cancelo and Mattia De Sciglio have had their moments recently, they haven't been nearly consistent enough.
I've recently written about how underrated Lazio sporting director Igli Tare' is, and it looks like he found another gem in
Adam Marusic
, who has really strived as a right wing back in Simone Inzaghi's system. While Inter is now starting to get some returns from the Joao Cancelo transfer, their most consistent wingback was former Torino defender
Danilo D'Ambrosio
.
At left back certainly much more was expected this season from Alex Sandro and Ricardo Rodriguez, but we at least got to witness a great comeback to Serie A from
Aleksander Kolarov
- the former Lazio left back has great chemistry with Edin Dzeko and was one of the main reason Roma's defense exceeded expectations. Prior to his injury,
Faouzi Ghoulam
had established himself at the best of his position in Serie A- his injury showed us how valuable he is in Sarri's system.
Honorable mentions:
Florenzi and Masina
​Picks:
Marusic and Kolarov. Ghoulam would have made the cut had he not suffered the knee injury.
​CENTERBACKS
The Contenders:
In recent years, we've seen the value of centerbacks sky rocket on the transfer market- I guess most finally figured out that not conceding goals is just as important as scoring them. While Leo Bonucci is almost unrecognizable at Milan, there are still plenty of great options at this position to choose from in Serie A
It took a little while, but
Mehdi Benatia
has fully established himself as Bonucci's replacement at Juventus. The Moroccan center back took the starting job away from Daniele Rugani and has returned to the consistency we saw from him not just at Roma but also at Udinese. While his main partner
Giorgio Chiellini
continues to struggle with injuries, when healthy he's still one of the elite man markers in the world- this season he has also tried to pick up the slack in the ball distribution department with Bonucci gone.
You can make a case
Milan Skriniar
was the most valuable purchase in Serie A. His performances for Luciano Spalletti have already doubled his value on the transfer market, and while he's struggled a bit recently, he was as valuable to the backline as Icardi and Perisic were upfront. On top of dominating in the air, Skriniar has also shown above average passing ability- one of the reasons he's featured often as a defensive midfielder on his national team.
​While Napoli's great front line rightfully receives a ton of praise and hype,
Kalidou Koulibaly
is equally important to the partenopei's success. The former Genk centerback combines incredible strength with a much improved sense of positioning and ability to distribute out of the back line.
Honorable mentions:
Fazio and De Vrij
Picks:
Koulibaly and Skriniar- while Benatia has been on a great streak recently, these two have performed at a more consistent level through out the season.
MIDFIELDERS
The Contenders
: When you think of Napoli's midfield you probably go to Hamsik, Jorginho and maybe even the developing prospects like Diawara, Zielinski and Rog before coming up with
Allan
. But the Brazilian midfielder has re established himself as one of the most dynamic and complete players in his role in Serie A, and has been the most consistent member of Sarri's midfield.
"When
Milnkovic Savic
is Milinkovic Savic, he's Pogba from summer of 2016 and when Pogba was Pogba he was Vidal from the summer of 2014" is how I would describe the Lazio midfielder's year. He's now become the hottest name in the Serie a transfer news headlines after a stellar calendar year playing in Simone Inzaghi's system.
This has been
Miralem Pjanic's
most consistent season in Serie A, and he's now become the most valuable midfielder within Max Allegri's evolving system. The Bosnian international brings order and precision to Juventus run of play regardless of the formation used in the midfield.
Sampdoria has developed numerous intriguing prospects in recent years including Icardi, Schick and Skriniar- and their latest jewel is
Lucas Torreira.
The Uruguayan started his career as a striker before moving to the midfield at Pescara, the same club that launched Marco Verratti, a player Torreira is now being compared to.
While Fiorentina lost two key midfielders in Borja Valero and Matia Vecino, the Tuscan club's sporting director Pantaleo Corvino found a gem in
Jordan Veretout
- the versatile French midfielder has been a standout for new manager Stefano Pioli. After being linked to Serie A clubs for numerous years,
Lucas Leiva
arrived at Lazio to replace former captain Biglia- the transition has been very smooth and the former Liverpool midfielder has been praised for how quickly he adapted to his new club.
Udinese have had a revival under new manager Massimo Oddo, after a stretch of years in which the club became rather boring, the Friulani now have numerous intriguing prospects including midfielder
Antonin Barak
who has scored six goals to go with two assists.
Honorable mention:
Cristante
Picks:
Pjanic, Milinkovic Savic, Allan
WINGERS
The Contenders:
while many Interisti were disappointed that Suning wasn't able to deliver a sexy name on the transfer market, being able to keep
Ivan Perisic
while staying within Financial Fair Play parameters was one of the best moves of the summer in Serie A. The Croatian winger continued to deliver assists to Icardi while also offering great defensive coverage for Inter's rotating cast of wing backs.
While Milan spent over 200 million in the summer, their best player is still
Suso
who at least signed a rich extension with the rossoneri. The former Liverpool winger continues to be devastating despite being rather predictable and not having a better supporting cast upfront.
​One of the lasting images of 2016 was
Lorenzo Insigne
looking completely puzzled when Ventura asked him to play as a central midfielder for the Azzurri against Sweden in the World Cup qualifier playoff. At least while playing in his natural role for his hometown, Insigne has performed at such a high level that it's hard to argue against him being the best Italian offensive player.
Many expected Lazio to struggle after selling Keita Balde' especially since their other starting winger Felipe Anderson was set to miss most of the first half of the season. But
Luis Alberto
more than stepped up to the challenge, his performances earned him a call up to Spain's national team and an appearance on Barcelona's transfer market radar.
Picks:
Luis Alberto and Insigne
STRIKERS
The contenders:
as I've pointed out many times, last season six strikers scored twenty goals or more in Serie A, and all stayed at their respective clubs last summer. While Higuain got off to a slow start and both
Edin Dzeko
and
Dries Mertens
have been in a slump scoring wise,
Mauro Icardi
has gone up a notch playing for manager Luciano Spalletti and
Ciro Immobile
is well on his way to his third season with 20 or more goals in Serie A.
After an amazing start to the season,
Paulo Dybala
was benched for three consecutive games because of a combination of personal problems, poor form and Allegri going with a three man midfield. The Argentine international did finish the year by scoring a brace against Hellas Verona and is poised to get fully back on track in 2018.
While Sampdoria lost both Luis Muriel and Patrik Schick in the summer,
Fabio Quagliarella
has more than picked up the slack this season- and now with Totti retirement, he's the active player with the most goals scored in Serie A.
Pick:
Icardi
Serie A team of the first half of the season:
Alisson; Marusic, Koulibaly, Skriniar, Kolarov; Pjanic, Milinkovic Savic, Allan; Luis Alberto, Insigne; Icardi. Bench: Handanovic, Hysaj, Benatia, Torreira, Suso, Dybala, Immobile.
@DavidAmoyal
David Amoyal