Shameful Lotito comments leaked after Anne Frank incident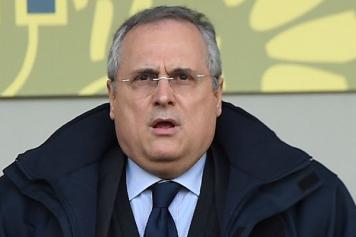 25 October at 17:20
Claudio Lotito has
egg on his face once again.
The Lazio owner had audio of a phoncell of his calling his visit to a
Roman synagogue a "charade".
Fans of the Eagles got into trouble recently for more anti-Semitic chants, and for exposing banners in which famous Holocaust victim Anne Frank was pictured in a Roma jersey.
This has led to the investigation of 16 fans, as well as Lotito promising to send 200 families to Auschwitz every year.
The owner was also set to visit a local synagogue in order to make a public gesture by leaving a wreath of flowers, but he was caught over the phone saying: "let's just get on with this charade."
The flowers were, accoridng to the Corriere della Sera, later found in the River Tiber. Local boys from the Jewish community had planned to leave them in front of Lotito's house, but changed their minds.
"Will the Vice-Rabbi be there? Is only the Rabbi going to be present??" the President asks in a recording, published by local paper Il Messaggero.
"They're not worth anything. You see what we're up against? The Rabbi's in New York, the vice Rabbi.
"Let's just get on with this charade, do you know what I mean?"