Shevchenko " We must avoid Italy in the World Cup play-offs"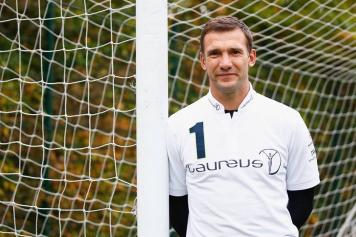 04 October at 08:30
AC Milan's former striker Andriy Shevchenko was interview by
Gazzetta dello Sport
in a special plane heading to Tbilisi where last Friday he played a spectacular charity game to help the Georgian people.
On the same flight were or legendary players from Serie A including Maldini, Totti, Zanetti, Cordoba, Boban, Costacurta, Albertini, Cafu, Rivaldo, Crespo, Biagio, Toni, Simic, Dida, Seba Rossi, Abbiati, Ambrosini, Dino Baggio, Ba, Angelo Carbone, Favalli, Jankulovski, Livio, Delvecchio, Candela, Vierchowod.
Opponents and comrade alike as Sheva refers to them as
"all great champions, friends, people I have respected so much and from whom I received affection and respect. What a game! What time! What players! ".
Andriy Shevchenko, is now coaching Ukraine, with the risk of a playoff with Italy a possibility.
"We hope not, and it's not just a technical matter."
Meaning?
"I love Italy, I feel Italian. Since I was a kid I've got your country in my heart. "
Stories.
"In a youth tournament, we played at Agropoli and I was enchanted by people, from the way of life, from everything. I came home with the conviction that one day I would have lived long in Italy.
"
In short, Italy is also avoided for a matter of the heart?
"That's right, and they are not feelings of circumstance."
It is therefore not to see his staff are very Italian starting with the assistant Tassotti?
"Italy is the football university from a tactical point of view. Serie A is novel every year, and I watch it a lot. Mauro for me has always been a point of reference in every way, even humanly. We understand with one look. "
Let's go back to the world cup qualifiers: to avoid Italy you need to win the group which includes Croatia and their stars:
"It would be perfect if we went together in Russia, but the journey is still long for us. Croatia has exceptional individualities, and I think above all in Modric, besides various Perisic, Mandzukic and Brozovic. "
There is only one point difference in the group?
"If you cannot win in Kosovo, and the chances are pretty good, there's no tomorrow ..."
A good leap of quality compared to the last European qualifiers
"Yes, I consider this path to be positive, no matter how the qualification will then be. We took the team after a disastrous European championship: zero points, zero goals scored and players morally were broken. We are divided by a difficult situation, not counting the many extra calcinotic problems. "
And after more than a year of work what is the methodology?
"We work with modern methodologies, we have had the utmost support from the federation and the boys. In the field, we are already a true team with clear ideas and the common good in front of any individualism. Today, however, we can play it with anyone. "
So Yarmolenko and Konopljanka are the stars?
"They have quality and experience, but my teams will never depend on individuals. Do not go so far, I learned it in Italy. Or if you are Messi or you must first be solid, organized and with a very precise identity. We are creating an important base, work is completed and I like this experience. "
Who inspired you as a coach?
"Everyone and nobody in particular. I want to be Shevchenko and that's enough, I would like to be recognized for the seriousness of my work. I still love to observe and pick up the best things of those who have more experience than me. Lobanovski was, for example, science applied to football when no one even imagined some methodologies. Ancelotti is perfect in human relationships, Capello is for me 360-degree stability, while Mourinho is the manager for excellence. I also learned from Zaccheroni, who had new, different ideas, and from outside I liked Lippi a lot, in creating an organized, compact and hungry group. "
Back to Serie A, who do you think will win it?
"Juve is the strongest for corporate structure and experience. Immediately I can see Naples, who cannot seem to be stopped. "
Inter?
"Spalletti, technically prepared, meticulous, never springs and puts our heart in his work. Yes, Spalletti is a guarantee for Inter, and the Nerazzurri will be there to the end. "
Milan's difficulties are being justified by their massive outlay, have you been puzzled by them?
"I would like to clarify. I simply said what I would personally do in the market, that is to put at most 3-4 new owners of great value. There are so many of them for what I think. The road chosen by the new leadership is legitimate, but in my opinion it assumes a long-term program, and therefore patience on the part of everyone is needed: they are starting from scratch, the championship will actually come between one- two years if Milan has in the meantime regained the place it deserves in football that counts. It is right to raise the lead even in the declarations, Milan must always be the ultimate goal, then there is the reality of the field and the change of 10-15 players in one shot is not just a joke, it takes time to find the balance. "
How does the derby end?
"I do not know"
The derby of his heart?
"The return of the Champions semi-finals in 2003. There was a crazy tension in the city, but we had a great quality: when I came in the field around me I mentally put them away, the crowd disappeared, flags and choirs; I had only pitch and opponents in my head and in my eyes. "
The symbol of his derby?
"Zanetti, the toughest opponent, and then Paolo Maldini my greatest teammate"