Shocking Milan-Lazio background: Lucas Leiva insults Rossoneri employee in a wheelchair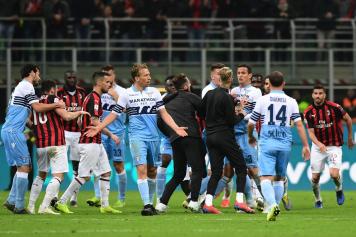 16 April at 10:00
The controversy surrounding AC Milan-Lazio is not abating. After the final sparks, with Luiz Felipe attacking Suso, unleashing confusion and a mass brawl in the middle of the field at the San Siro; after Acerbi's jersey shown in front of the Curva Sud by Bakayoko and Kessie, with everything that came out of it; there is a new detail about the heated matchup, fundamental for the Champions League race.
According to 
Il Messaggero, 
in fact, the field inspectors noted in their report other episodes of the fight, with Lazio's Leiva addressing a sentence to Milan's employee on a wheelchair Ugo Allevi. "Stay seated and shut up," the Brazilian said to Allevi. Now even the former Liverpool man, in addition to Patric, Luiz Felipe, Bertolacci, Bakayoko and Kessie, risks a disciplinary measure.
This all comes in an inconvenient time for the Biancoceleste, who will face Udinese tomorrow in an attempt to bounce back from their 0-1 loss at the San Siro.