Should Totti go to Euro 2016? VOTE NOW!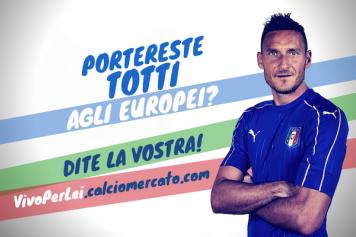 03 May at 16:38
Francesco Totti just keeps on surprising, doesn't he? Four games, four goals for the Roma icon, who seems to have a "Totti Moment" (RIP David Foster Wallace, by the way) almost every game, in which he is subbed on and turns things around.
His goal against Atalanta, his brace against Torino and last night's stunning free kick have made the difference, helping Roma keep up their hunt for second place. With 304 goals in 599 Serie A games, Totti is set to make it 600 this weekend against Chievo.
With Roma now wondering whether to renew his deal or not (his departure seemed a foregone conclusion a few weeks ago) it is time to ask ourselves a bigger question: is the No.10 worthy of an Azzurri call-up for this summer's European Championships?
That's certainly a question many have been asking themselves on social media.
SHOULD TOTTI GO TO EURO 2016? VOTE HERE!
There's a problem: Totti retired from international duty in 2007, and even if Conte were to call him up... he may well say no. But, if recent form is any indication, he could be useful for turning a game on its head.
Then again, it's not as if
Er Capitano's
Italy record is unblemished: the Roma legend was suspended for four games at Euro 2004 for spitting at Denmark's Christian Poulsen, and didn't exactly play brilliantly back at the 2002 World Cup, either.