Simeone and Chiesa: is it too early for them to join Chelsea and Tottenham?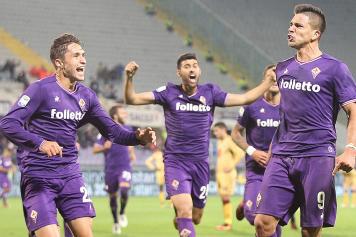 11 January at 15:00
Serie A is now home to some of the best young players in world football, which inevitably leads to most of Italy's clubs being forced to sell their most talented stars to foreign clubs. That trend shows no sign of slowing down either, with Fiorentina duo Federico Chiesa and Giovanni Simeone being linked with Chelsea and Tottenham Hotspur respectively. But is it too soon for the Viola's two most coveted players to move on?
The short answer is, of course, yes. Despite the fact they are both in their second season of prominence in Italian football, it is far too early for them to consider a move to England, where young players notoriously struggle to break into the top sides. Both players are supremely talented and are destined to leave Tuscany for bigger and better things at some point, but they should leave any decision on their futures until the summer at least.
Though Fiorentina didn't get off to the best of starts this season, there have been signs of improvement under the tutelage of Stefano Pioli. His two star players would be well advised to stay and learn from him in an environment where many young players are being given a platform to show what they can do. Despite a lack of investment from the Della Valle brothers, these are exciting times at the Stadio Artemio Franchi with Pantaleo Corvino putting a competitive squad together with very limited resources at his disposal.
Though they are both supremely talented footballers, it would be a mistake for either to move to the Premier League just now. They would be much better served remaining in Florence and enjoying regular first team football under a coach who really knows how to get the best out of young players like them. Chiesa and Simeone have all the time in the world to go on and conquer the Premier League when they are good and ready.
Jordan Russell (@JordRuss96)