Smalling on the outside of England, is Man Utd next?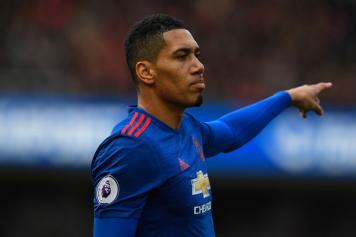 10 November at 12:45
Chris Smalling has seen his role with Manchester United diminish of late, and now the same can be said for his role with the national team. Gareth Southgate dropped the centerback from the English squad as they prepare to take on Germany in Friday's friendly.
Smalling has fallen behind United defenders Phil Jones, Rio Ferdinand, Eric Bailly, Johnny Evans, and Daley Blind on the depth chart. With England, his passage to the top is blocked by Jones, Gary Cahill, John Stones, Joe Gomez, Harry Maguire, and Michael Keane.
Some point to the 27-year-old's inability to play the ball with elite quality as his main failing. Others point to his perceived delicate physical composition, with United manager Jose Mourinho recently calling him out. "Smalling doesn't feel that he can play 100 per cent with his pain," said the Portuguese.
Expounding on his point, Mourinho continued, "For the team, you have to do anything. There is a difference between the brave, who want to play at any cost, and the ones for whom a little pain can make a difference."
Now, with his roles on both fronts decreasing, the exit sign from Old Trafford appears closer than ever for Smalling.