Spain: Players are with Hierro to the death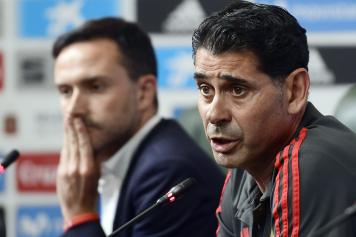 14 June at 10:55
Spanish FA President Luis Rubiales claims that the entire Spanish team is behind interim Coach Fernando Hierro.
The former Real Madrid defender was hired after Julen Lopetegui was fired for accepting to join the Merengues.
Lopetegui had just signed a new deal, prompting the anger of Rubiales, who decided to sack him mere hours ahead of the 2018 World Cup.
Speaking to Cadena COPE, the president claimed that "they are completely determined to have a good World Cup.
"There is no rebellion, the players are really good."
"They players have received him [Fernando Hierro] with pleasure and they have told me that they'll be with him to the death.
"With Sergio Ramos it'll be very good too, with him being captain."
The Furia Roja is set to play Portugal on Friday.
Rubiales also went over the reasons why he sacked Lopetegui.
"We cannot allow any employee to dictate how things are done in the federation,"
"We had to let [Lopetegui] go and send a message that this house will be defended and that no employee goes for free.
"I am very sad because I trusted in Lopetegui as soon as I arrived, but I am sure and I am fully supported [in the decision to fire him].
"There are somethings more important than the sporting side of things, such as values and how things are done.
"I admire Lopetegui a lot and he is a great professional, but on this occasion his behaviour didn't leave me any other option.
"What happened has been very serious and there was a need to take a decision.
"Lopetegui's explanation did not convince me.
"I listened to everybody, but the decision was mine."