Spalletti hails Skriniar development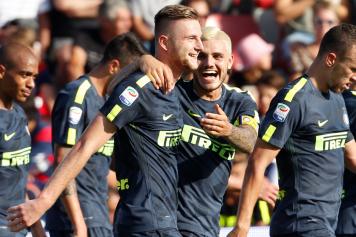 23 October at 15:30
Inter Milan manager Luciano Spalletti has hailed the performances of summer signing Milan Skriniar, lauding the development the Slovakian has made since joining.
The former Roma boss was asked about a host of issues in the pre-match press conference, ahead of Inter's home game against Sampdoria tomorrow.
When asked about Skriniar, Spalletti said:
"He has a lot of improvement, we liked the way he responded when we went to negotiate to buy him and he saw the manager and Ausilio that he wanted to join Inter despite he had other options. But then, you in training that has the eyes of a very alert player and is ready to grow, he knows how to play the ball and his one on one's are very strong. My fear is to establish relationships to sell. "
Spalletti was also enquired about the club's hopes of winning the Scudetto once again, he replied: "We know our strengths and weaknesses, but we have to continue to work. If you ask me, it means something is missing because every Sunday comes the sane question. At Juventus for example you never ask. You always doubt us, not Napoli, for example. We will be a champion when you stop asking us. "
Kaustubh Pandey