Spalletti on Juventus: 'CR7? They have also CG3, a phenomenon'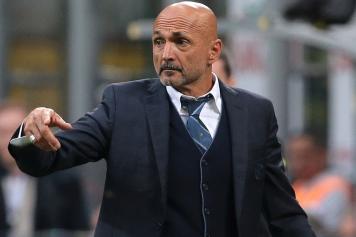 07 December at 11:40
Luciano Spalletti talked at a press conference before the upcoming match between Juventus and Inter.

More curiosity about the level reached or more certainties?
"I carry with me more certainties because the team is growing, lately we have had good games. There is still some lack attention in particular moments, but we are a great team".

How the team will play between Friday and Tuesday?
"They are not moments to put together. Inter have played a lot throughout the season, but we have to go a long way, step by step correctly. If you take the first step well, the next step will also be good. It is the addition between these steps that makes us understand what we are".


Do you play only for the second place?
"It's not over when you lose a game, you lose confidence, you lose an opportunity. It's over when you do not try again and you're not convinced of the strength that brought you to a specific goal. We are convinced of this. There is an important distance with Juventus, it becomes difficult to get them, but the good news is that we can shorten and it depends on us".

On the comparison with last year's match?
"Juventus is a team that every year tries to put in football players that can make a difference compared to the previous year. Three years ago, when I was in Rome, they took Pjanic from us. Last year we had one of the strongest right-back of the league, Cancelo, and they got it. They took Higuain from Napoli. These are important details for vertical growth. This year they took Cristiano Ronaldo: the mentality that leads him inside the locker room is unbridgeable. This is the difference. We must play these games with personality and character. What is seen in the last games is an important signal: if we do well what we can do everyone can suffer, beyond the adversary".

On injuries?
"Nainggolan and Dalbert will be out. They improved in yesterday's exams, but they cannot play".

How can you stop Ronaldo?
"Juventus is not just Cristiano Ronaldo. There is also GC3, Giorgio Chiellini, a phenomenal player. Just look at his 5 minutes against Spal. He is a player with a great mentality and an important force. Juve has many like him, as we have them. It is the collective that can always save you".

What do you expect?
"his is a test to understand if you're ready. It is the real test to be in a condition to make results against anyone. They have personality, they have strength. Consequently, it is necessary to stand together and to direct the game without thinking of what their move will be and to limit their behavior".

Inter is the anti-Juve in perspective?
"Last year Naples was close to us. We missed a couple of results. This year they have taken further steps forward and the league is more balanced between those looking to beat Juventus. But despite this, there was less distance before, but the difference was more evident".

What does Inter have more than Juventus?
Being a team for 90 minutes can put Juventus in difficulty. Pressing 90 minutes and removing spaces to think about play can be the key. It is the quality and fantasy of the player to bring the advantage. We need to be good at playing with personality and keeping the rear-view mirrors under control".

On the midfield and the choices of Rome?
"I tried to add possession and quality in the circulation of the ball. You put everything you can to achieve victory. In Rome we played the right way despite having missed the three points".
Mirko Laurenti