Spalletti: 'Sampdoria like Tottenham'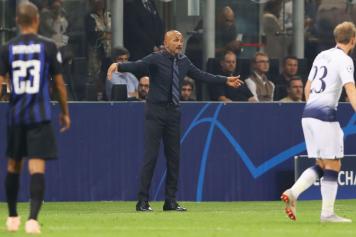 21 September at 15:40
On the eve of the Serie A clash against Sampdoria, Inter coach Luciano Spalletti spoke in a press conference to the journalists present at Appiano Gentile including our very own Pasquale Guarro.
"
The game we won [against Tottenham] has a bonus that can multiply in the next challenges. Vrsaljko is not available
. He has to observe a period of custom work to get back into full fitness. Meanwhile D'Ambrosio is a back and is ready for a full 90 minutes," Spalletti said.
"Lautaro is fine, but he does not have 90 minutes in the legs. Two strikers? At Sassuolo we played with Icardi and Lautaro and it can also happen in the future with Keita. Sampdoria? They are like Tottenham, with a modern coach who takes care of the details.
"
What we could improve is to always use our midfielders. From the victory against Tottenham
we have benefited in terms of enthusiasm."
"The fundamental thing was the spirit that the team had, which remained in balance, always going to play with personality and attacking high and recovering even dirty balls. I like to see characters in my players, but we have to put inside every time."
"I have an important role and therefore also important responsibilities. If we think how certain matches have gone, it is clear that we are not satisfied. But if we see how we have worked,
I always find seriousness and professionalism, and these are things important to always do. To do this work there are fixed points
, only that you are not always able to receive the maximum. This is where my position becomes important."
"
How to involve Icardi more? His involvement goes from everything and it is clear that he must make movements benefiting the team and vice versa
his teammates to put him in the best condition. To realize a top footballer, it takes a few seconds of talent, but for a game of high level, it takes 95 minutes of high intensity, always close to the ball," the Inter coach added.