Strange: Bayern call for PSG to sack sporting director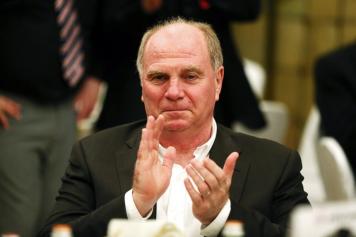 03 September at 20:10
Bayern Munich have taken quite the
shot across Paris Saint Germain's bow.
The attack comes from Uli Hoeness, who believes that the Ligue 1 champions should sack sporting director Antero Henrique, allegedly for botching - or not being serious about - the signing of Jerome Boateng.
The Manchester United target had spent early summer talking about looking for "new challenges", and it looked like PSG would be interested in signing him.
Hoeness claimed that in the negotiations for Juan Bernat - who did go to Paris - the name of Boateng was mentioned.
"I'd advise Paris to replace their sporting director," Hoeness told kicker. "This man is no advertisement for this club. If PSG want to be one of the leading clubs in the world, they can't afford a sporting director like him."
Hoeness doesn't just say that the €50 million they asked for the 30-year-old was too much for PSG, he more than alludes to the fact that there was never any serious intent from the Frenchmen.
"We set the transfer fee that high because we did not want to let Jerome go," Hoeness said. "We did not expect Paris to pay that fee. Moreover, we wanted to do our coach, Niko Kovac, a favour. He wanted to keep the player by all means."