Suarez warns Liverpool and Barcelona: 'Coutinho wants to make a step forward...'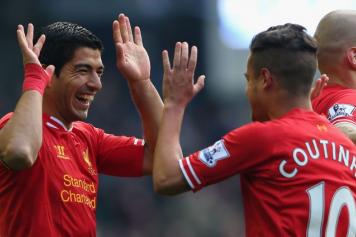 08 November at 10:28
Barcelona star striker Luis Suarez released an interview with
Mundo Deportivo to talk, among other issues, about Philippe Coutinho
who is a former teammate of the Uruguay International. They both played at Liverpool and could reunite at Barcelona in the coming months.
Coutinho pushed to join the Camp Nou hierarchy last summer but Liverpool did not want to listen to any offer.
Mundo Deportivo
questioned Suarez on whether Coutinho would still be open to move to Barcelona.
"I am on very good terms with him and I talk to him. He must be willing to come and join Barcelona. He has ambition and every player with some ambition want to play for this club. He went through a difficult moment and even if he wanted to Liverpool, he had always been working hard trying to help the team. However, he has ambition and he wants to make a step forward."

"Coutinho can give a lot to Barcelona, both as a person and as a footballer. He is a one of the top players right now and he can really help us, everyone knows it."