Summer Transfer Window, Serie A clubs rated: AC Milan the best, Fiorentina the worst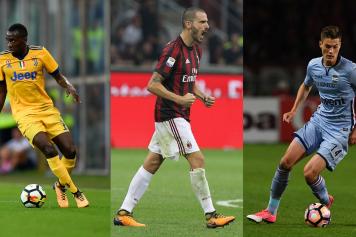 01 September at 11:51
ATALANTA 6/10 –
Not as strong as last season. Kessié and Conti left but they still have Papu Gomez and they kept Spinazzola. They will play the Europa League and that could be a problem for them.
BENEVENTO 6/10 –
During the summer they didn't make any important signing. They have probably paid Cataldi a bit too much (€6 million), but in the last day they could have signed a few players that could help them to survive.
BOLOGNA 5/10 –
They lost Viviani and Dzemaili, their weak summer transfer activity means they have no ambitions.
CAGLIARI 7/10 –
Pavoletti is the most expensive signing in the history of the club (€10 million), van der Wiel has also joined the club and they got a couple of experienced players like Andreolli and Cigarini. Well done.
CHIEVO 5/10 –
The usual grey transfer window but somehow, in the end, they always manage to have a successful season.
CROTONE 5.5/10 –
No more Ferrari and Falcinelli, they tried to strengthen the midfield but it won't be enough. Another hard season ahead of them.
FIORENTINA 3/10 –
One of the biggest exodus ever seen.
La viola
sold Bernardeschi, Kalinic, Borja Valero, Vecino and Gonzalo Rodriguez, their captain. New signings are gambles. Let's see if this path towards the weakening will ever end.
GENOA 6/10 –
Enrico Preziosi is ready to step down as president but he is going to leave with a decent Genoa side. Bertolacci and Lapadula are smart signings.
INTER 5/10 –
Smart transfer window by Ausilio and Sabatini but Suning should have given them more budget to spend. AC Milan spend more than € 200 million and we would have never imagine that new Chinese Inter owners would have forces their directors to save every penny.
JUVENTUS 6.5/10 –
Many great players arrived in Turin: Douglas Costa, Bernardeschi, Matuidi, Szczesny, De Sciglio and Howedes. The sale of Bonucci, however, it's a tricky choice and they failed to sign Schick and Keita, not to mention Spinazzola. We usually see a different Juve. Probably as strong as this one but definitely less confused.
LAZIO 7/10 –
Nani replaced Keita and Lucas Leiva replaced Biglia. Lazio are probably not as strong as last season and their team is not as deep to play both in Serie A and Europa League. Lotito, however, made the usual great sales and replaced those players with others already proved at an international level.
MILAN 10/10 –
Great transfer campaign in terms of investments and new players signed. The arrival of Bonucci is stunning, the
rossoneri
have followed the same logic throughout the whole summer. It looks like the good old days of the Berlusconi era are back.
NAPOLI 7/10 –
Sometimes people underestimate how important it is to keep the same players in a squad. They could have signed a new keeper at the beginning of the summer but De Laurentiis was right not to sell Reina in the last days of the transfer window. It would have been a tricky call.
ROMA 5.5/10 –
The
giallorossi
have sold Salah and Rudiger, they were vital under Spalletti. Pellegrini and Gonalons are smart signings and Schick is another huge player but it is hard to predict how he will adapt in Di Francesco's 4-3-3. Their defence is a nightmare without Rudiger. Moreno, Fazio, Juan Jesus and Manolas. Not enough.
SAMPDORIA 6.5/10 –
They sold some important footballers: Schick Skriniar, Muriel and Bruno Fernandes, but they manage to sell very at some very high prices. Replacements are almost all exciting.
SASSUOLO 4.5/10 –
Keeping Berardi was easier than one year ago. They are way weaker than last year because they also sold Defrel and Pellegrini. At least they won't play in Europa League this season.
SPAL 6.5/10 –
A coherent revolution. This team look solid enough to battle it out for the survival. Good for them to sign experienced strikers.
TORINO 8/10 –
The confirmation of Belotti is like a new signing, the sale of Zappacosta to Chelsea for more than € 25 million is excellent. Rincon is a great addition as well as Niang's.
UDINESE 4/10 –
Once upon a time they used to sign exciting youngsters, now they have sold Thereau and bought Maxi Lopez. The end is near.
VERONA 5/10 –
Cerci and Verde are no more than gambles. The team does not seem strong enough and in January Caceres will leave. Hard season ahead of them.
Stefano Agresti, translated by Lorenzo Bettoni