Syria's World Cup dream painfully comes to an end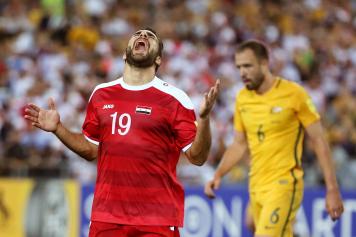 10 October at 14:25
Soccer has always been a sport to reduce violence among nations. Whether it was Didier Drogba, who successfully appealed to his home in Cote d'Ivor to bring a civil war to end, or crime in Mexico dropping drastically when the national team plays, soccer has done much good in the world. Amidst a conflict came home nation, on Tuesday, the Syrian national team came in inches of shocking the world and joined the international World Cup playoff next month.
In the first leg of their two-legged Asian qualifying finals against Australia, the Syrians scored an unlikely late equalizer on a penalty. The "home" match for Syria had to be played in Malaysia due to violence in the Middle Eastern country.
Amazingly, Syria took an early lead in Australia as it appeared that their tickets were booked to the final round of World Cup qualifications. However, true to his CV, Tim Cahill stepped up and led the Socceroos to a thrilling moment in their history. He scored twice, including the late extra-time winner, to send Australia on.
The most heartbreaking moment for the Syrians came in the second half of the extra-time when a 25-yard free kick was drilled off the post. Had it gone in, Syria would have been on the next round on away goals.
As it turned out, Syrian players broke down at the final whistle, knowing their dream of representing their torn country on the world stage is over. They have, however, inspired many along their shocking journey to the cusp of the 2018 World Cup.
Tim Cahill and Australia will now take on the fourth place in CONCACAF team in a two-legged playoff to determine who goes to Russia.