Tactics Board: Allegri plots move to 4-3-2-1 to bring out Juve's attacking potential | by Nicola Balice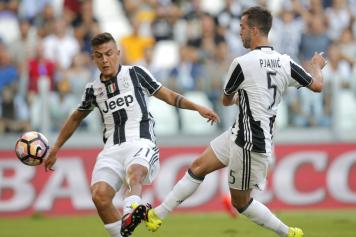 09 November at 13:00
If there's something that Max Allegri's two seasons in charge at Juventus have, it's that the Livornese gaffer has always tended to test his four-man defence after the second international break.
With Juventus winning but flattering to deceive up front with the age-old 3-5-2, it looks like the former Milan Coach is set to try his preferred formation once again.
He's already experimented with variants of the 4-4-2 in past seasons, whether it was having Vidal play in a diamond or Miralem Pjanic lining up behind the strikers against Lyon.
Even more recently, we saw the Bianconeri line up a trio of attackers against Chievo, Mario Mandzukic and Juan Cuadrado backing up Gonzalo Higuain. Again, Juventus won, but it probably wasn't down to the formation.
What has Allegri got in mind now? Basically, a sort of Christmas Tree formation, the same that was made famous by Carlo Ancelotti when he was at AC Milan. Juventus intend to give Paulo Dybala and Pjanic more freedom and less defensive duties to create behind a solitary striker, whether Higuain or Mandzukic.
Looking back, this was the kind of lineup Juventus tried out early this summer, both against Tottenham Hotspur and South China.
In this scenario, someone like Cuadrado would be the joker, the curveball, someone to throw in if the opposition needs to be shaken up.
With Leonardo Bonucci himself complaining that Juventus look light in midfield, the aquistion of someone like Axel Witsel in the winter window should bring Pjanic closer to the opposition goal, and allow Juventus' attack to shine...at last.
@NicolaBalice, adapted by @EdoDalmonte