The boys of summer- Serie A players to watch during transfer window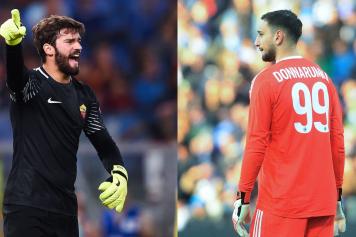 22 May at 14:10
With riveting races for the title, Champions League spots and relegation there certainly have been a lot of eye balls on Serie A in recent months- and with summer upon us, that isn't likely to change any time soon. The Italian league features numerous players who will be in the transfer news headlines, and with the mercato upon us, it's time to assess their current situations:
Sergej Milinkovic Savic
The Serbian midfielder checks all the boxes when you're looking for a protagonist in a transfer window saga- he's made a huge name for himself this season with great performances often against the top teams, he's still only 23, plays position at a premium on the market, and despite his imposing physical appearances, he has such a flashy style that his matches are like an episode of Game of Thrones- you're guaranteed at least two "wow" moments.
Milinkovic Savic has been a transfer target for both Manchester clubs as well as Paris St Germain for quite some time, and Lazio has certainly shown the ability to get significant returns on players on expiring contracts- never mind super stars in the making who are under a long term contract and linked to multiple extremely rich clubs. Lazio's failure to qualify for the Champions League isn't expected to be much of a factor because it was almost a certainty Milinkovic Savic would be sold this summer for a massive fee.
Mauro Icardi
While the outcome of Sunday's match didn't really impact Milinkovic Savic's future- the same cannot be said for Icardi. The striker had yet to play in the Champions League, and after scoring 100 Serie A goals at the club, it was hard to see to him wanting to stick around without that competition and the Financial Fair Play restrictions affecting the squad moving forward.
​Icardi recently bought a new home in Milano, and with Inter already landing De Vrij, Asamoah and Lautaro Martinez it's hard to see him leaving now that the club are back in the Champions League after a six year absence- on the other hand the possibility of signing such a prolific striker who is only 25 may drive a club to make a Godfather offer.
Paulo Dybala
After clashing with Allegri during the season, Leonardo Bonucci ended up at Milan in one of the most shocking transfers in recent memories. With the Serie A champions fully committed to the Tuscan manager, could Dybala also be leaving Turin after multiple run ins with his coach? Last summer's acquisition of Federico Bernardeschi and the more recent links to Alvaro Morata, seem to suggest Juventus could be preparing for life after Dybala, but they'll have to be overwhelmed by an offer to do this summer.
At the moment Juventus are looking for an offer of 150 million for Dybala, and while Bayern Munich could be a natural fit because of their close relationship with the bianconeri (on top of the fact they are owed around 40 million euro for Douglas Costa by summer of 2019), there's also a chance la Joya could be taking his talents to Spain or the Premier League.
Milan Skriniar
You could make a case no new player made a bigger impact after a transfer last summer than the former Sampdoria defender. Skrinair played every minute of the Serie A season for Spalletti, and was the anchor of a defense that carried the team during the stretch run of the season. Unlike Miranda who struggled in the first fall and winter of 2017
,
Skriniar was consistently in the discussion for the best Serie A defender of the season.
​While Inter would certainly like to keep Skriniar for at least another season, they do have a great insurance policy in Stefan de Vrij who arrived on a free transfer. With the guaranteed Champions League revenues coming in, Inter have at least the luxury of sitting back and waiting for an obscene offer to come in- which isn't out of the question when you consider that both Manchester City and Barcelona are interested.
Federico Chiesa
By now you all know he's the son of a former Italian striker from the 90s, but that is just a footnote when you consider his ability. After selling Bernardeschi, Borja Valero and Kalinic, Fiorentina made the 21 year old their signature player- a role he completely excelled in under Pioli and playing next to another "figlio d'arte" in the Cholito Simeone.
It's no surprise that Pep Guardiola has set his sights on Chiesa as he's always been very interested in the Italian market. Chiesa's dribbling ability, first touch and speed make him an ideal fit for any team's front line- but also a very expensive one when you consider his age and the fact Fiorentina recently gave him a new contract.
Jorginho & Koulibaly
While Sarri would certainly like to see his wages be brought in line with the other top Serie A managers, his main concern when it comes to committing to Napoli has to do with the level of his future squad. The former Empoli manager is already concerned players like Albiol, Callejon and Mertens could leave because of their relatively cheap exit clauses, but losing the brains behind "Sarri Ball" and his best defender would essentially mean the end of the current cycle.
​While Napoli could hypothetically survive losing Jorginho when you consider they have Amadou Diawara in the wings, the same cannot be said for Koulibaly- a player who has also developed a strong bond with Sarri. Going into the 2017/18 season, Koulibaly was in the conversation for best defender in Serie A, now he may just be the best answer in the debate.
Alex Sandro
The former Porto defender could be a great example of the theory that "it's better to sell a player a year too soon rather than a year too late" but considering the scarcity of quality left backs on the transfer market, it's not likely his value took much of a hit despite being benched in numerous key matches due to his uninspiring performances.
​While it's true that Juventus have lost Kwadwo Asamoah and Leonardo Spinazzola will be out at the beginning of next season after having knee surgery, they could still move Alex Sandro considering that they'll likely be able to bring back Matteo Darmian to Serie A. Now that I have your attention Manchester United fans, while it's true the Red Devils are interested in Alex Sandro as I write this on May 21 there's no deal in a place or an advanced negotiation to report.
Suso
While Calhanoglu had a resurgence under Rino Gattuso, the former Liverpool winger struggled in the second half of the season. So between the fact he may not be an ideal fit for the rossoneri moving forward and his 40 million euro exit clause, a more than reasonable amount between his ability and fact he's just entering his prime, it's not out of the question that Suso will leave Milan, especially if it would mean returning to the Premier League and even better Liverpool.
Alisson/Donnarumma/Buffon
The keeper carousel in Serie A is quite intriguing. Between Pepe Reina's arrival at Milan and all the drama with the fans through out last summer and the season, it's more than likely that Gigio Donnarumma played his last game with the rossoneri on Sunday. But the emergence of Alisson as "THE" keeper to buy from Serie A, and Buffon's shocking expected move to Paris St Germain, there are fewer logical destination for Gigio.
While Roma would like to keep Alisson and have the resources to do so after their deep run in the Champions League, they would have to at least consider a monster bid for their keeper especially if he shines at the World Cup. At the moment, Alisson has suitors in the Premier League and is Real Madrid's main alternative to De Gea.
@DavidAmoyal
David Amoyal